Frontlines
COVID-19 and World Refuge Day
Here's a look at how The Salvation Army is meeting needs of displaced people internationally.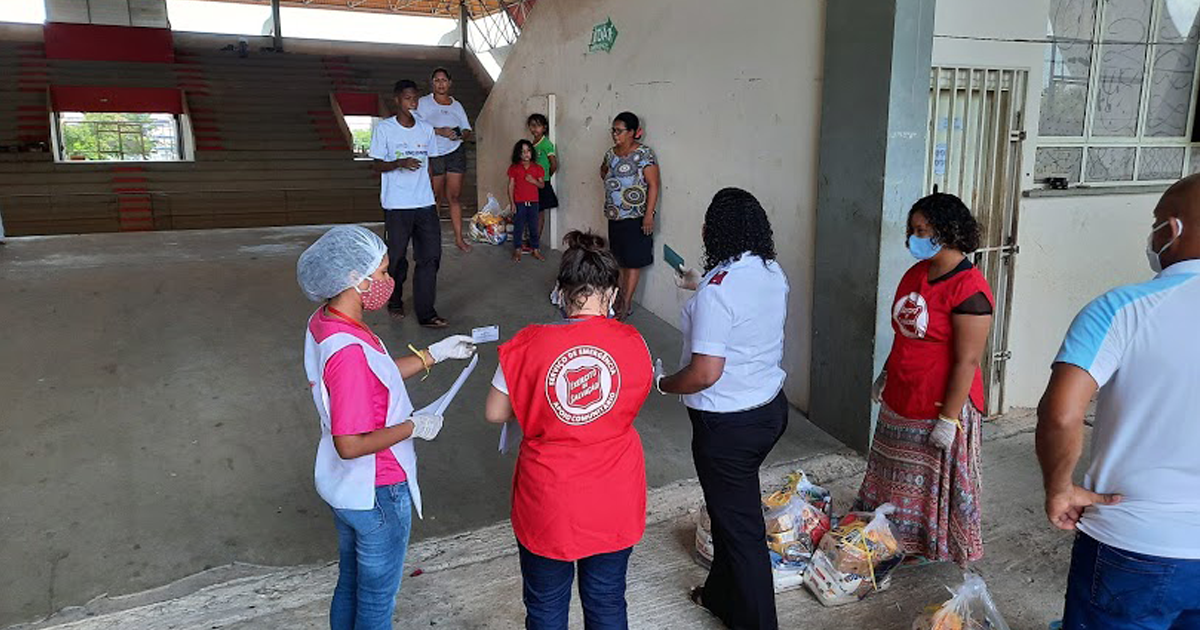 REFUGEES, asylum seekers and forcibly-displaced migrants are among the most vulnerable groups affected by COVID-19. The United Nations Refugee Agency (UNHCR) reports that there are currently 71 million displaced people around the world, and 134 refugee-hosting countries have reported local transmission of coronavirus. It is in this context that The Salvation Army is stepping in where possible to provide additional support for these individuals who have already suffered enormous hardship.
Venezuelan refugees living in temporary camps and on the streets in Boa Vista, Brazil, have been receiving support from The Salvation Army – working in collaboration with the country's military, UNHCR and other aid agencies – for two years. With the advent of COVID-19, additional meals and hygiene kits have been distributed from The Salvation Army's Bridges Project in the city, in order to help those for whom finances are perilously tight. Refugees who used to eke out a living selling water, sweets or snacks in public areas or at road junctions are unable to achieve an income because of restrictions of movement. Additionally, refugees are facing the problem of being evicted from abandoned public buildings that were being used as shelter. The Salvation Army has been helping to register vulnerable people and continues to provide psychosocial monitoring. As well as food, other basic items such as mattresses, fans and gas canisters are being offered.
In the south of the country, The Salvation Army's Centro Integrado João de Paula in Joinville is helping refugees from Haiti and Venezuela who are experiencing difficulties with the economic effects of regulations to manage the spread of coronavirus. Many work in informal jobs that have ceased because of the pandemic, again leaving them without a basic income. Food parcels have been distributed to around 35 vulnerable families, to ensure a reliable source of nutrition. As in Boa Vista, assistance with official paperwork is being offered, along with hygiene and cleaning kits.
The challenges of maintaining good hygiene in the context of a refugee camp are considerable. Four thousand families (representing more than 20,000 individuals) being supported by The Salvation Army in the Kyangwali refugee settlement, Uganda, have minimal financial support and are unable to purchase basic supplies. Salvation Army team members, already engaged in a water, sanitation and hygiene initiative in the settlement will provide each person with his or her own bar of soap in order to help prevent the spread of disease. With the cramped conditions on site, any transmission of COVID-19 would be extremely dangerous.
In South Africa, an emergency shelter for homeless people supported by The Salvation Army in Marabastad, Pretoria, since the beginning of the lockdown is specifically for asylum seekers. With winter setting in, and the unusual prospect of snow forecast for Johannesburg, hot meals are an important component of The Salvation Army's response. The shelter – a former jail – initially planned to accommodate 250 asylum seekers awaiting the correct papers to be legally registered. It is currently assisting 350 men, women and children, including local homeless people.
Refugees and other migrants in Tijuana, Mexico, are among those most affected by coronavirus in the region. Many have travelled for hundreds of kilometres from Central America and beyond, to reach the border with the USA where they remain until their plea for asylum can be heard. Most are living in crowded shelters or in makeshift tents on hard ground, so circumstances are harsh. The Salvation Army's Casa Puerta de Esperanza in the city has been distributing small care packages and cartons of beverages in order to make a difference and provide hope.
Migrant populations in the Middle East are receiving food parcels and grocery vouchers. Many labourers from throughout Asia and Africa are brought into the region to work in the field of construction, domestic work or cleaning services. During the pandemic many of them have gone either unpaid or on a partial salary, and are a segment of the population that is constantly being overlooked. The Salvation Army's region-wide efforts will serve more than 1,500 migrant labourers. In Kuwait, The Salvation Army is working with national embassies and consulates, as well as Kuwait City's International Community Centre. The gift card distribution being coordinated by The Salvation Army gives migrant families access to essential food and hygiene supplies for 30 days at a time. Similar voucher schemes in Bahrain and the United Arab Emirates also seek to ensure that migrants have a reliable source of food while economic turmoil means their livelihoods are on hold.
Spain has been particularly badly hit with the COVID-19 virus, and the most vulnerable people are immigrants who do not hold the same rights as Spanish citizens. All Salvation Army corps (centres) in the country have developed food distribution programmes, with a focus on ensuring those without the right paperwork – and often at risk of exclusion – receive the necessary assistance.
In Greece, The Salvation Army's Omonia and Victoria Square day centre, Athens, has reopened with a new, carefully thought-through layout to provide humanitarian assistance to refugees and asylum seekers while still ensuring the mandatory social distancing for the safety of the service users and staff. The centre is the hub of The Salvation Army's response to migrants in the city, with three other agencies providing support under the same roof in order to provide wraparound care for those in need. Service users have been sharing their stories of lockdown and looking forward to the 'new normal'.
Marking the UN's World Refugee Day on 
Saturday 20 June
, The Salvation Army is holding a special screening of Displaced, its new documentary which tells the stories of refugees entering Brazil – particularly those fleeing Venezuela for northern Brazil – and hears from some of the many relief agencies supporting them. Although filmed before COVID-19 hit, the IHQ Communications film crew will be on hand to address comments and answer questions, along with representatives from International Emergency Services and the leader of The Salvation Army in Brazil, Colonel S. Edward Horwood. Tune in from 6 pm UK time at 
sar.my/facebook
.