Frontlines
130 Years of Service in Santa Monica
This year, The Salvation Army in Santa Monica has been celebrating 130 years of service in the area.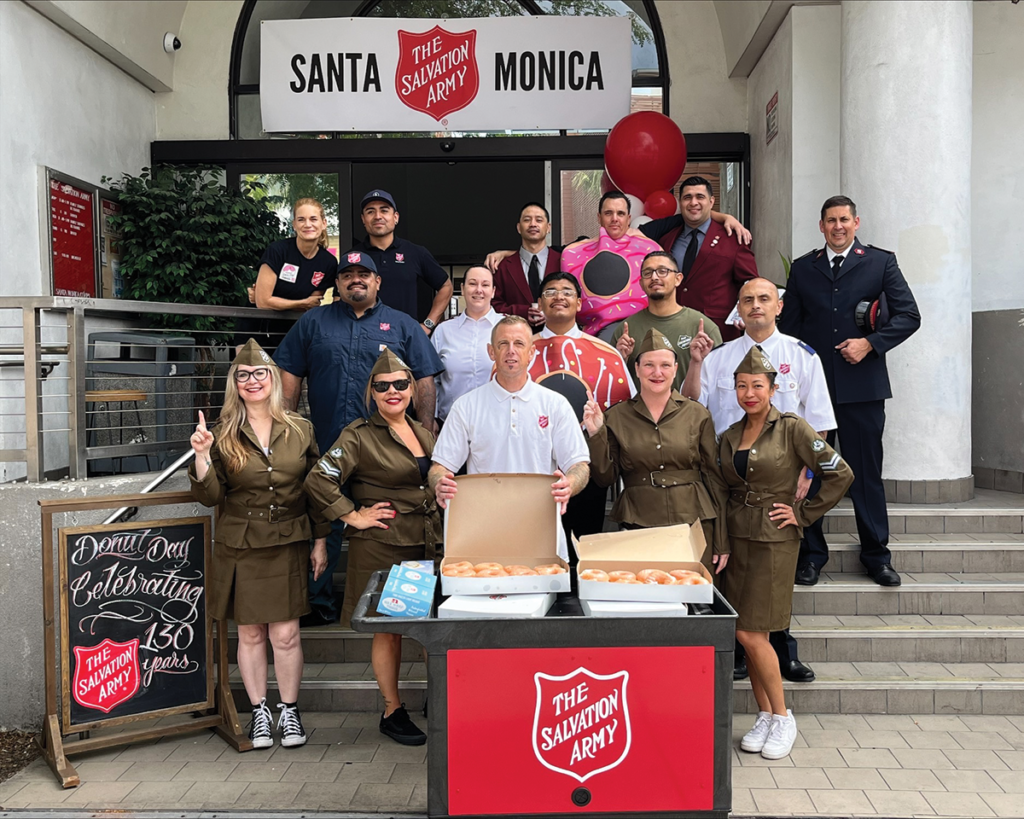 Santa Monica, CA — this year, The Salvation Army in Santa Monica has been celebrating 130 years of service in the area. In conjunction with the local service, the Army has put on events to commemorate the anniversary starting in February, with an open house, hosted by Lionsgate, the film and TV studio known for productions such as the "John Wick" franchise and the upcoming "Hunger Games" prequel. Ross Pollack, the executive vice president of Lionsgate HR and chair of the advisory board, played a large part in making the kickoff event happen, as well as setting up a private screening of "Jesus Revolution."
The month of the actual 130th anniversary, June, coincided with National Donut Day. Captain James Fleming informed the advisory board about The Salvation Army's history with the delicious treat, and they became excited, urging him to put on a National Donut Day celebration. He'd never done something like that before, but he had the full support of the board. Pollack and Lionsgate were able to get 2,000 doughnuts for the Army, delivered promptly at 9 AM on National Donut Day.
Before the distribution began, several board members, city councilmembers and Mayor Gleam Davis gathered to commemorate the anniversary and commend The Salvation Army for their work in the community.
"This is exciting because The Salvation Army is an important partner with the city in addressing the needs of some of our most vulnerable citizens," said Mayor Davis as she presented a proclamation. "One of the things that touches me about the work that The Salvation Army does, is that they do it without judgment. They understand that none of us are perfect and they look beyond our imperfections and say, 'We don't care where you've been, who you are, what we care about is how we can help you.'"
With that, four teams took to the streets with carts loaded with boxes of donuts. They took the time to specifically visit police stations, fire stations, the YMCA and even a couple libraries to remind the community that the Army is there for them. They also passed out postcards with information about the Army's history with National Donut Day as well as the Army's work in Santa Monica.
Reflecting on the year's celebrations, Captain Fleming said that he was most proud of getting more than 125 people off the streets in the first half of the year alone, and they'll soon be starting another street team with support from the city. But there's still more to look forward to as they wrap up their 130th year: after National Donut Day, the Army brought a canteen to participate in two Fourth of July parades. This month, they'll participate in a 5k run, and all of that momentum should lead to an exciting kettle season.